Low Price Wholesale Teardrop Flags with Free Custom Service
Specification
Eye-Catching Teardrop Flags: Boost Your Brand with Low Price Wholesale Flags
When it comes to making a statement at any event, indoors or outdoors, teardrop flags are a marketing marvel. Their unique shape, vibrant colors, and durability make them a powerful tool for drawing attention to your brand or message. In this article, we're excited to introduce you to our low-price wholesale teardrop flags with free custom service, a fantastic solution for your marketing needs.
Unparalleled Visual Impact
Our teardrop flags are designed to captivate your audience with their striking shape and vibrant color printing. We use durable poly knitted fabric that's printed using the latest dye sublimation flag printing technology. This not only ensures a high-quality finish but also makes the flags machine washable and resistant to fading. Your artwork comes to life in amazing photo quality, guaranteeing that your message shines at any event.
Complete Package
Our commitment to offering you the best doesn't stop at the flag itself. We include free ground stakes and quality zip carry bags with every teardrop flag, providing you with a complete marketing solution. Whether you need to secure your flag outdoors or transport it to different events, we've got you covered.
Versatile Indoors and Outdoors
One of the great advantages of our teardrop flags is their versatility. They are equally effective indoors and outdoors, making them suitable for a wide range of events, from trade shows and exhibitions to outdoor festivals and sporting events. You can seamlessly transition your branding efforts from one setting to another with our flags.
Customization to Suit Your Needs
Your brand is unique, and your marketing should reflect that. That's why we offer free custom service. Your design is digitally printed on 115gsm knitted polyester fabric, creating a flag that's not only eye-catching but also durable. The flag is then mounted on lightweight black carbon fiber poles, providing stability and flexibility. You can choose the base that suits your specific needs, whether it's a ground spike for outdoor events or a different option for indoor use.
Single or Double Sided Options
We offer flexibility when it comes to flag design. You can choose between single-sided and double-sided flags. Single-sided flags are the most common option, displaying a mirror image on the reverse side. Double-sided flags, on the other hand, have your image printed on both sides. To prevent ghosting of the images to each side, we use three layers of material, ensuring your message is clear and impactful from all angles.
Choose Your Size
To further cater to your needs, we offer three different heights for our teardrop flags:
Small: 2.5m
Medium: 3.5m
Large: 4.7m
These sizes are designed to suit various venues and events, allowing you to select the perfect flag for your marketing strategy.
Flag Dimensions
Here are the dimensions for each flag size:
Small: 1.8m x 0.7m
Medium: 2.6m x 0.9m
Large: 3.8m x 1.09m
In conclusion, our low-price wholesale teardrop flags with free custom service offer a cost-effective and powerful way to enhance your brand's visibility. Whether you're promoting your business, showcasing products, or delivering a message, our teardrop flags are a versatile and eye-catching solution that can't be ignored. Make your mark with teardrop flags and watch your brand soar to new heights.
Size Charts
Each beach flag is unique and has its own dimensions. To make it easy for you, we have made a clear overview of the different models with the corresponding dimensions. What is important for many customers, is the total height of the beach flag. This is important mainly for indoor use but sometimes, when used outside, you also want the information to be visible above certain objects. You will also find this total height on the websites of other providers. If you want to compare products with other suppliers, look carefully at the overall height and width of the beach flag and not the format (Extra Small – Large). Sometimes a size L (Large) with other providers is our size M. The printing shows the printing section (beach flag). These measurements include the margin by cutting the flag but exclude the tunnel (pocket in black or white). The total width of the flag will be slightly wider than the dimensions in the table below.
Take a look at the dimensions of the different models. In the tables below you will find an overview with the sizes of the flags and the total height of the beach flag with pole.
Rectangle Beach Flag Dimensions
| | | |
| --- | --- | --- |
| | Printing(cm) | Total height(cm) |
| XS | 60x160 | 200 |
| S | 72x240 | 300 |
| M | 72x340 | 400 |
| L | 72x440 | 500 |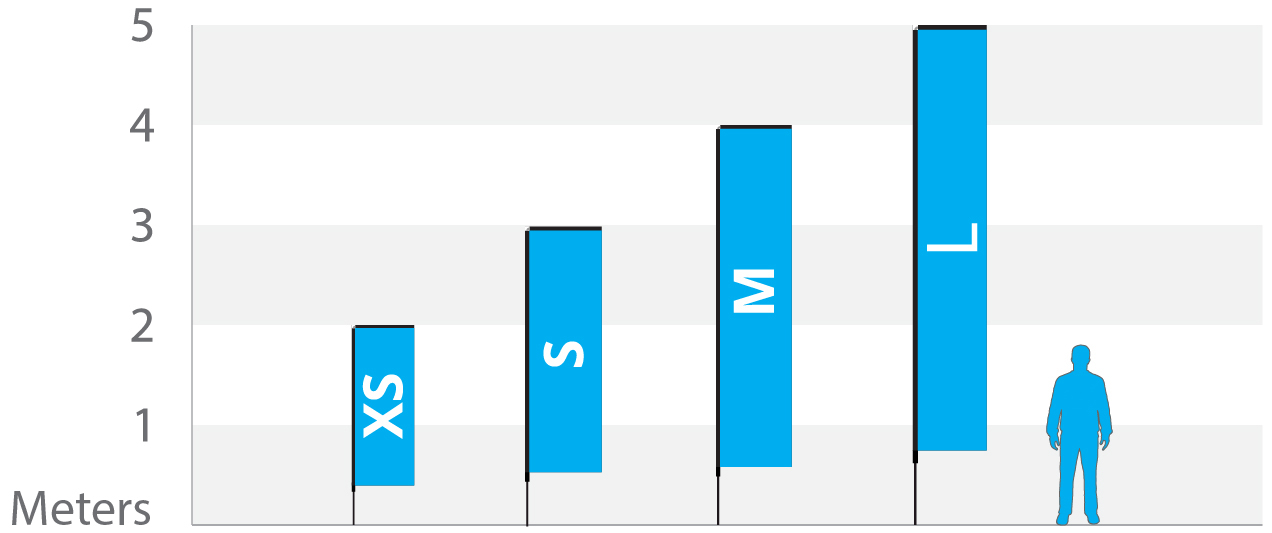 Straight Beach Flag Dimensions
| | | |
| --- | --- | --- |
| | Printing(cm) | Total height(cm) |
| XS | 60x186 | 250 |
| S | 60x240 | 300 |
| MW | 90x300 | 400 |
| M | 70x330 | 420 |
| L | 75x380 | 500 |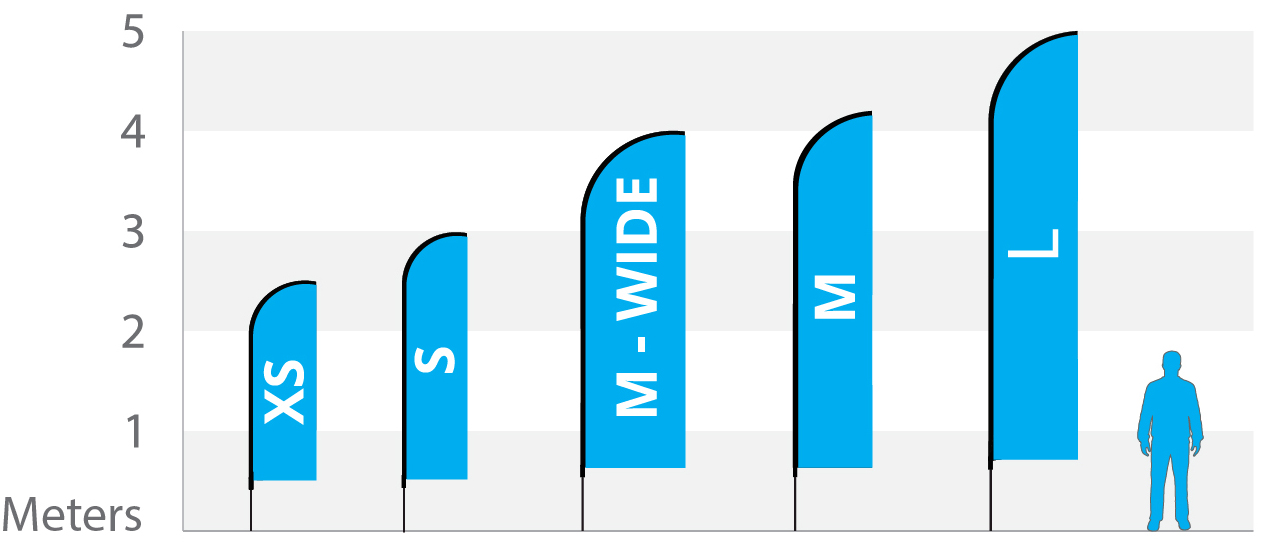 Feather Beach Flag Dimensions
| | | |
| --- | --- | --- |
| | Printing(cm) | Total height(cm) |
| XS | 60x180 | 250 |
| S | 60x240 | 300 |
| MW | 90x300 | 400 |
| M | 70x330 | 420 |
| L | 75x380 | 500 |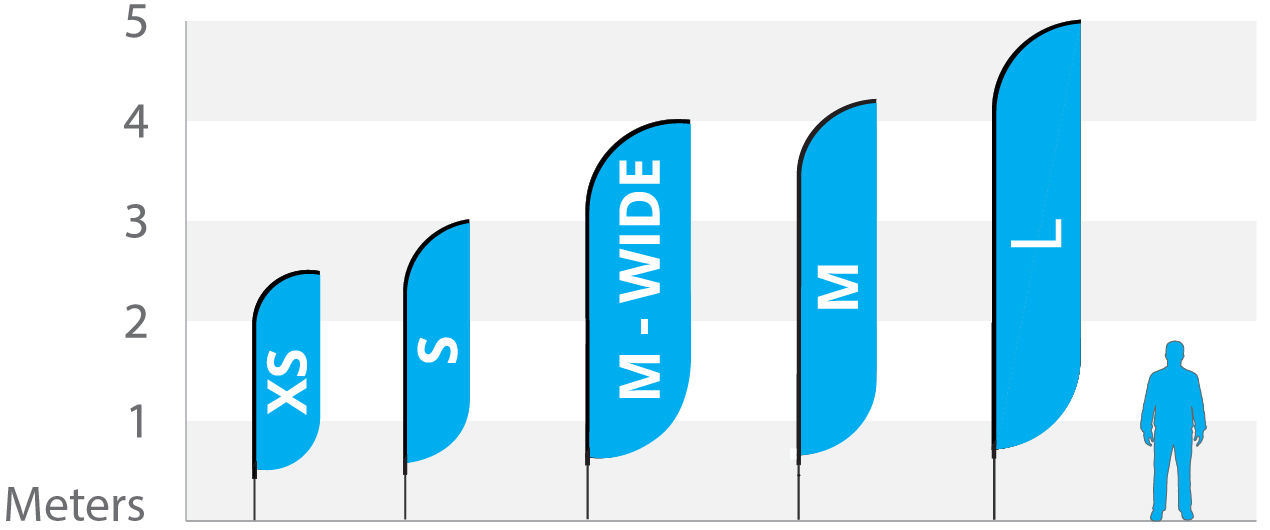 Teardrop Beach Flag Dimensions
| | | |
| --- | --- | --- |
| | Printing(cm) | Total height(cm) |
| XS | 80x143 | 200 |
| S | 90x180 | 250 |
| M | 100x240 | 340 |
| L | 100x300 | 400 |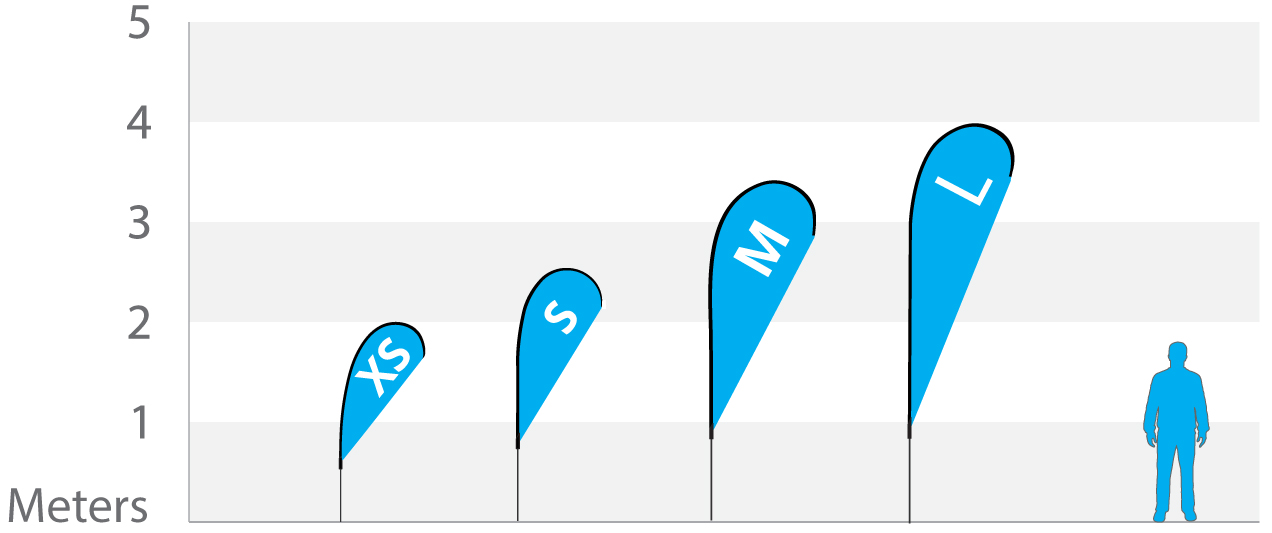 Shark Beach Flag Dimensions
| | | |
| --- | --- | --- |
| | Printing(cm) | Total height(cm) |
| XS | 68x200 | 250 |
| S | 68x250 | 300 |
| M | 68x350 | 400 |
| L | 68x400 | 500 |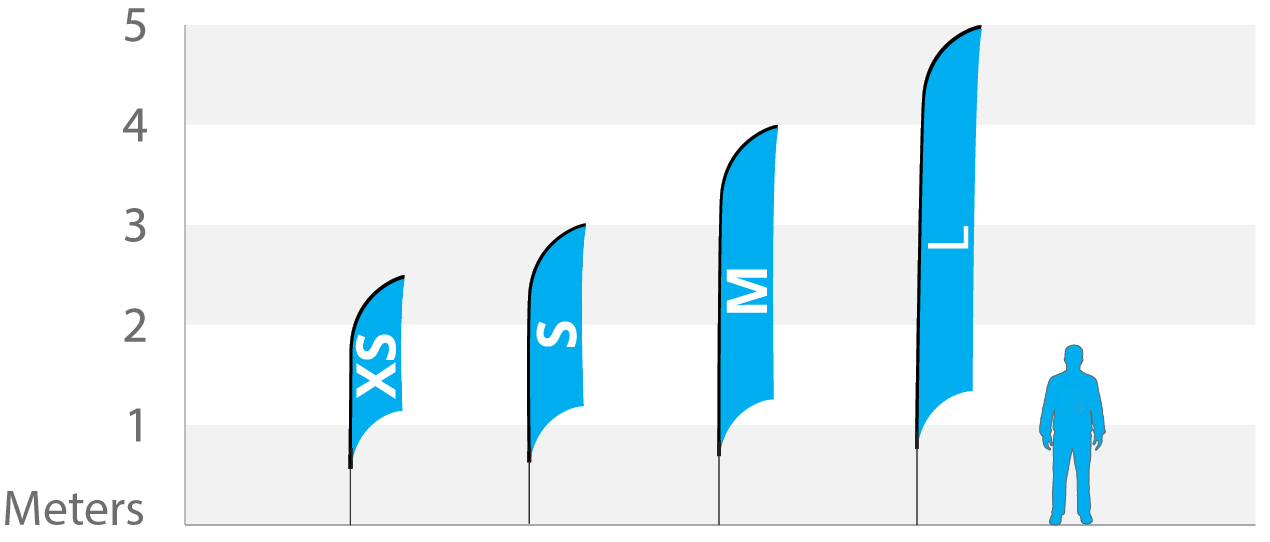 Angled Beach Flag Dimensions
| | | |
| --- | --- | --- |
| | Printing(cm) | Total height(cm) |
| XS | 60x186 | 250 |
| S | 60x240 | 300 |
| MW | 90x300 | 400 |
| M | 70x330 | 420 |
| L | 75x380 | 500 |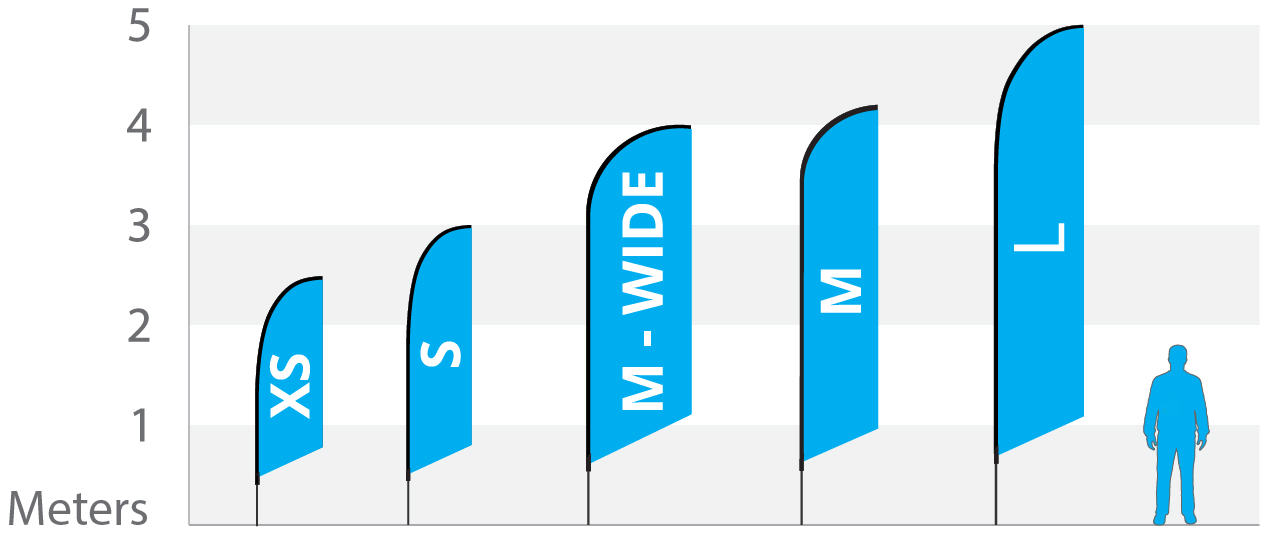 Convex Beach Flag Dimensions
| | | |
| --- | --- | --- |
| | Printing(cm) | Total height(cm) |
| XS | 60x180 | 250 |
| S | 60x240 | 300 |
| MW | 90x300 | 400 |
| M | 70x330 | 420 |
| L | 75x380 | 500 |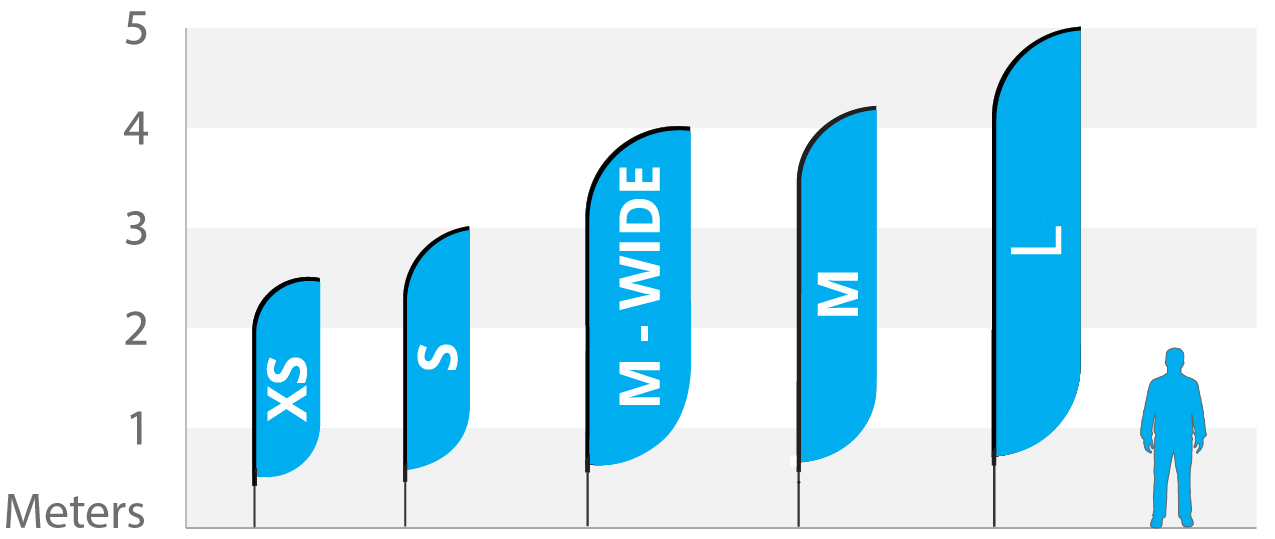 FAQs
Frequently asked questions and answers