Custom Feather Flag Banners Advertising Beach Flag Wholesale
Specification
Elevate Your Brand with Custom Feather Flag Banners – The Ultimate Advertising Solution
Custom feather flags, also referred to as feather banners, are a dynamic and effective way to captivate attention and promote your business. At our factory, we provide a diverse range of options to ensure your advertising message shines, whether indoors or outdoors. With a variety of feather banner bases and choices between single-sided and double-sided printing, we've got all your advertising needs covered from every angle.
Outdoor Durability and UV Resistance
Our feather banners are meticulously crafted for outdoor use, printed with UV-resistant ink to withstand the sun's harsh rays without fading. We use a robust 3.24 oz. polyester fabric material that ensures durability and longevity, even in challenging weather conditions. These banner flags are not only built to last but are also lightweight and easy to transport. Plus, when you purchase our pole kits, you'll receive a travel carry-case bag, making it convenient and hassle-free to transport your flag to various locations.
Single-Sided vs. Double-Sided Printing
With our company, you have the flexibility to choose between single-sided and double-sided feather flags.
Single-Sided: The design is printed on a single piece of fabric, and the design may slightly bleed through to the other side of the flag, though it's not as opaque as the front side.
Double-Sided: In this option, the feather flag is printed on two pieces of flag fabric sewn together, with a blocker fabric in-between the printed sides. This ensures that both flag sides will have the correct orientation, flipping arrows, and text to make them easily legible on the other side.
Versatile Feather Banner Bases
Our indoor and outdoor feather flags are incredibly easy to assemble, with a range of pole bases to choose from. After designing your custom feather flags, you'll have the freedom to select the base that best aligns with your specific needs.
Ground Stakes: Ideal for outdoor use, our ground stakes anchor your flag securely to the ground, ensuring it stands tall and proud even in windy conditions.
Cross Stand: Perfect for indoor applications or when you need to display your flag without staking it into the ground. The cross stand comes with a water base that can be filled to provide stability, preventing your banner flag from tipping over due to breezy conditions.
In conclusion, when it comes to promoting your business effectively, custom feather flag banners are an outstanding choice. Our company offers a versatile and durable solution that caters to your specific advertising needs, whether you're looking to draw attention indoors or outdoors. Invest in our custom feather flags, and watch your brand message soar to new heights, making a lasting impression on your target audience.
Size Charts
Each beach flag is unique and has its own dimensions. To make it easy for you, we have made a clear overview of the different models with the corresponding dimensions. What is important for many customers, is the total height of the beach flag. This is important mainly for indoor use but sometimes, when used outside, you also want the information to be visible above certain objects. You will also find this total height on the websites of other providers. If you want to compare products with other suppliers, look carefully at the overall height and width of the beach flag and not the format (Extra Small – Large). Sometimes a size L (Large) with other providers is our size M. The printing shows the printing section (beach flag). These measurements include the margin by cutting the flag but exclude the tunnel (pocket in black or white). The total width of the flag will be slightly wider than the dimensions in the table below.
Take a look at the dimensions of the different models. In the tables below you will find an overview with the sizes of the flags and the total height of the beach flag with pole.
Rectangle Beach Flag Dimensions
| | | |
| --- | --- | --- |
| | Printing(cm) | Total height(cm) |
| XS | 60x160 | 200 |
| S | 72x240 | 300 |
| M | 72x340 | 400 |
| L | 72x440 | 500 |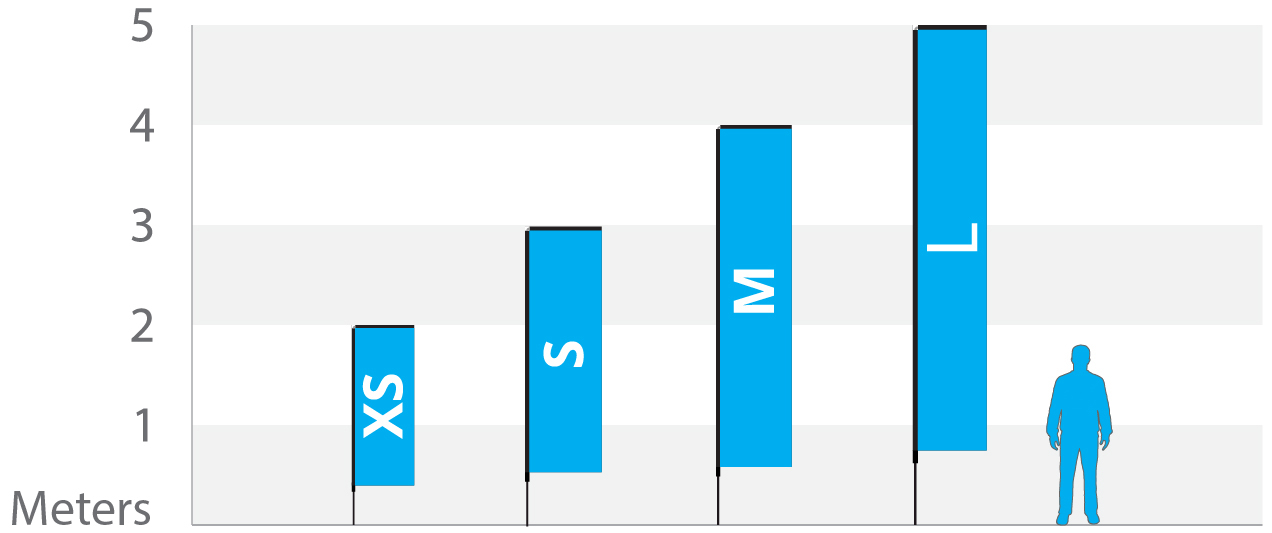 Straight Beach Flag Dimensions
| | | |
| --- | --- | --- |
| | Printing(cm) | Total height(cm) |
| XS | 60x186 | 250 |
| S | 60x240 | 300 |
| MW | 90x300 | 400 |
| M | 70x330 | 420 |
| L | 75x380 | 500 |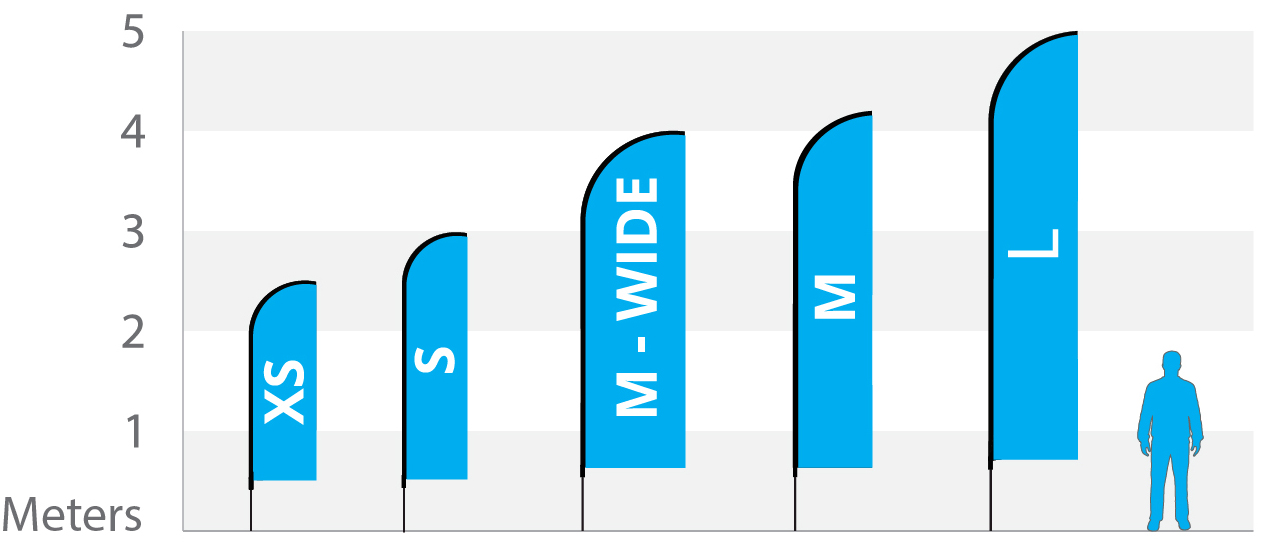 Feather Beach Flag Dimensions
| | | |
| --- | --- | --- |
| | Printing(cm) | Total height(cm) |
| XS | 60x180 | 250 |
| S | 60x240 | 300 |
| MW | 90x300 | 400 |
| M | 70x330 | 420 |
| L | 75x380 | 500 |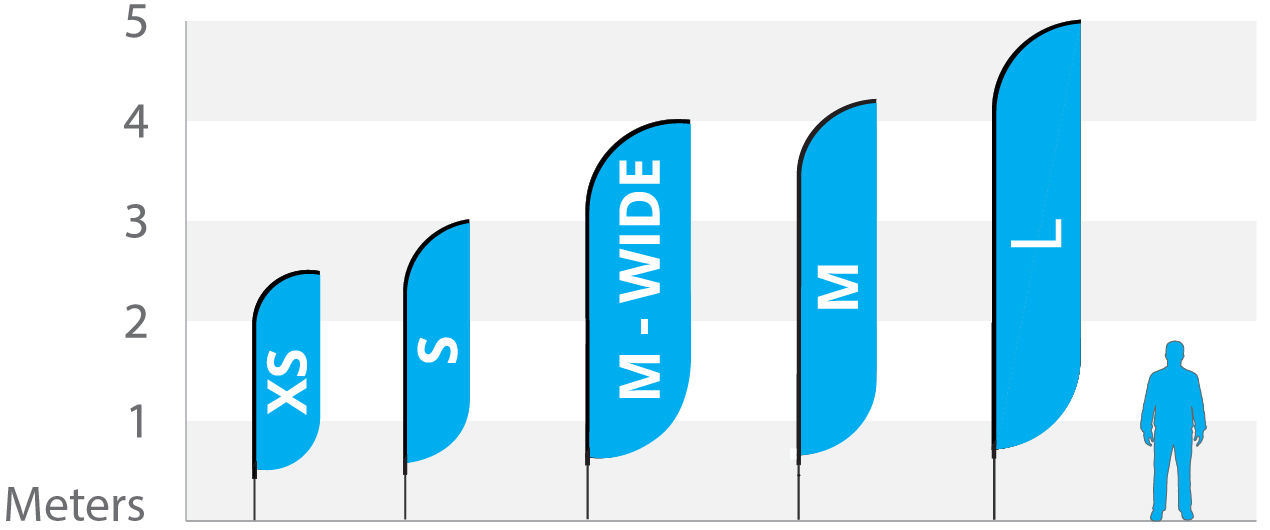 Teardrop Beach Flag Dimensions
| | | |
| --- | --- | --- |
| | Printing(cm) | Total height(cm) |
| XS | 80x143 | 200 |
| S | 90x180 | 250 |
| M | 100x240 | 340 |
| L | 100x300 | 400 |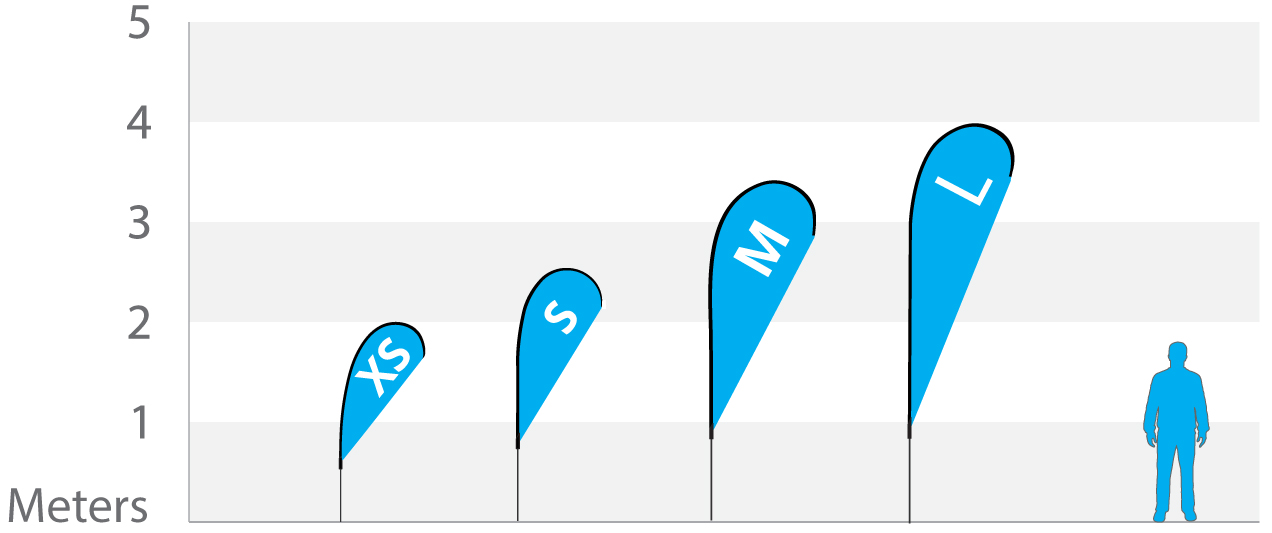 Shark Beach Flag Dimensions
| | | |
| --- | --- | --- |
| | Printing(cm) | Total height(cm) |
| XS | 68x200 | 250 |
| S | 68x250 | 300 |
| M | 68x350 | 400 |
| L | 68x400 | 500 |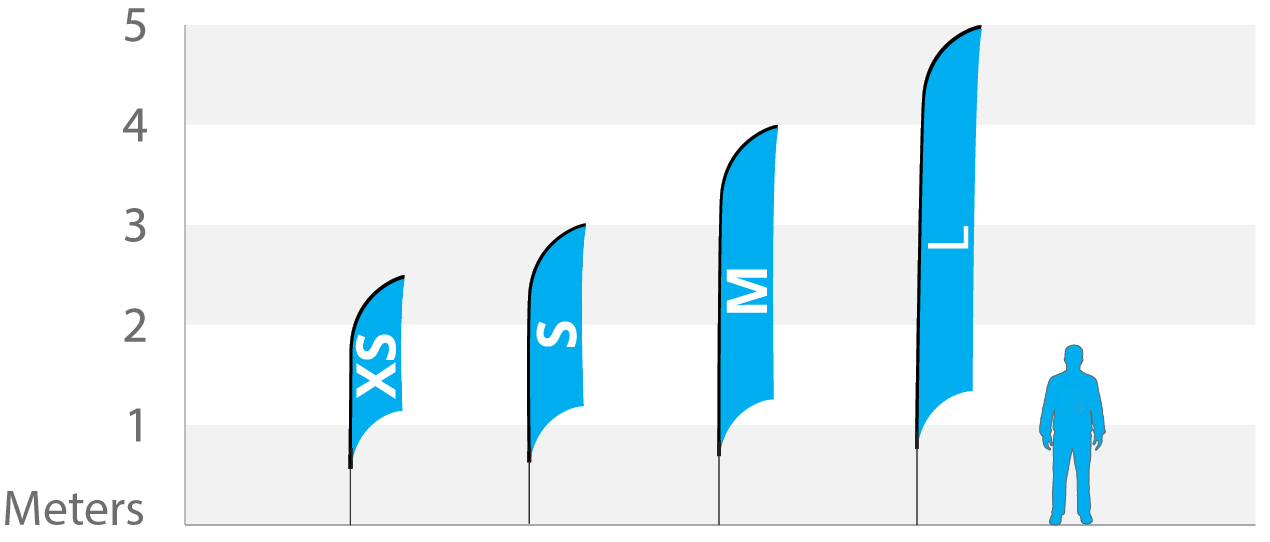 Angled Beach Flag Dimensions
| | | |
| --- | --- | --- |
| | Printing(cm) | Total height(cm) |
| XS | 60x186 | 250 |
| S | 60x240 | 300 |
| MW | 90x300 | 400 |
| M | 70x330 | 420 |
| L | 75x380 | 500 |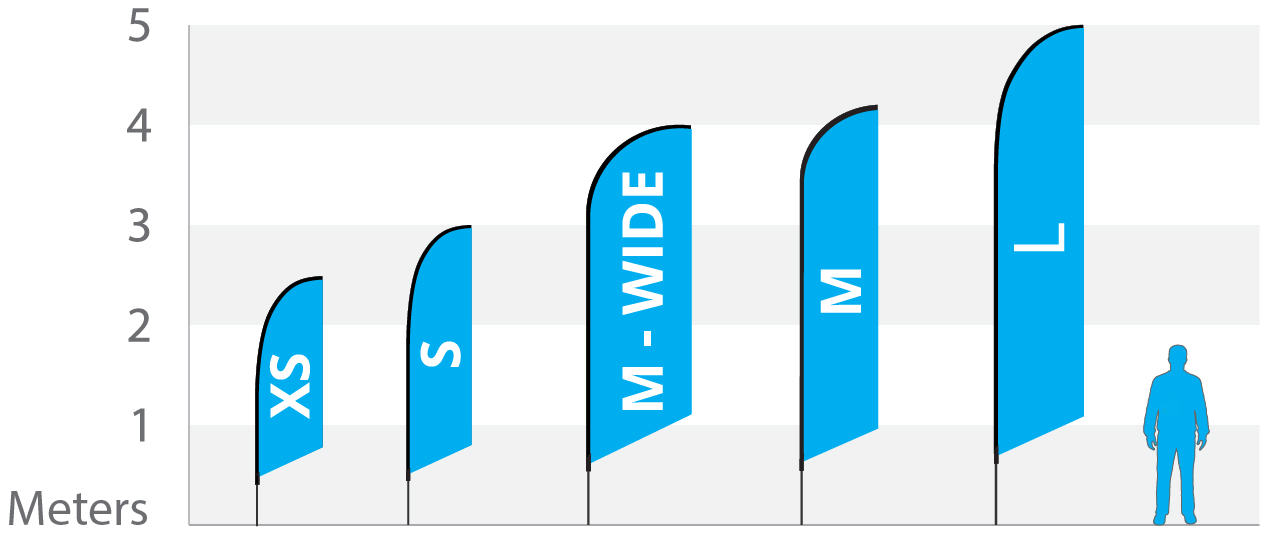 Convex Beach Flag Dimensions
| | | |
| --- | --- | --- |
| | Printing(cm) | Total height(cm) |
| XS | 60x180 | 250 |
| S | 60x240 | 300 |
| MW | 90x300 | 400 |
| M | 70x330 | 420 |
| L | 75x380 | 500 |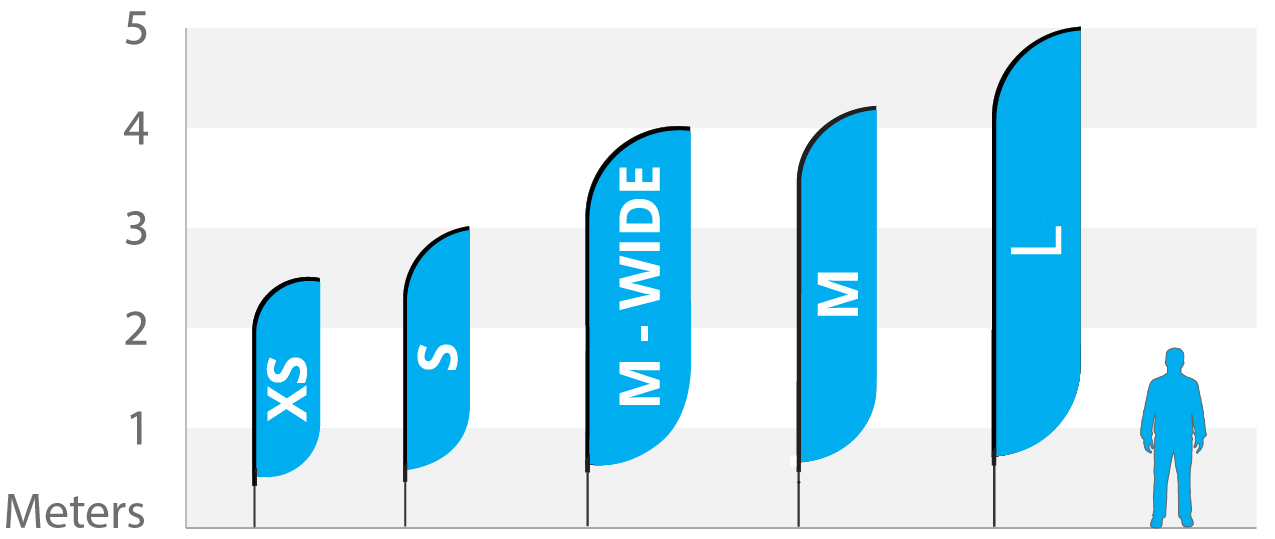 FAQs
Frequently asked questions and answers