Personalized Teardrop Banner Flags with Full Color Printing
Teardrop banner flags, commonly referred to as teardrop banners or feather flags, are large, tear-shaped flags utilized for advertising and marketing purposes. They feature custom designs produced through a dye sublimation process that results in bright, high-quality graphics. The flags are mounted on a flexible, lightweight pole made of aluminum and fiberglass, which keeps the flag taut even in windy conditions. The pole can be placed in the ground or on a stand, based on the user's needs and preferences.
Displaying a teardrop flag in front of your business can be an effective way to grab the attention of potential customers and passersby. These flags are eye-catching and can effectively promote your business and its offerings. They are also versatile and can be used in a range of settings, such as trade shows, outdoor events, and storefronts. By selecting a custom design that accurately represents your business's branding and messaging, you can effectively convey your message and make a lasting impression on your target audience.
Specification
Teardrop flags are a stylish and long-lasting signage solution that offers a variety of customization options, including an extendable pole, a choice of flag base, and strong polyester material. They are suitable for both indoor and outdoor use, thanks to their permeable, translucent material that allows wind to pass through easily. These flags are a cost-effective way to promote your business and increase brand awareness, as they are visually appealing and highly visible. They are also lightweight and easy to transport, making them a practical choice for events and other promotional activities. With a wide range of sizes and base options available, you can find the perfect teardrop flag to suit your needs. In addition to teardrop flags, we also offer a range of other printed displays, including feather flags, sharkfin flags, and square beach flags. All of our flags are fully customizable and can be tailored to your specific needs, making them a worthwhile investment that is both resilient and reusable.
Size Charts
Each beach flag is unique and has its own dimensions. To make it easy for you, we have made a clear overview of the different models with the corresponding dimensions. What is important for many customers, is the total height of the beach flag. This is important mainly for indoor use but sometimes, when used outside, you also want the information to be visible above certain objects. You will also find this total height on the websites of other providers. If you want to compare products with other suppliers, look carefully at the overall height and width of the beach flag and not the format (Extra Small – Large). Sometimes a size L (Large) with other providers is our size M. The printing shows the printing section (beach flag). These measurements include the margin by cutting the flag but exclude the tunnel (pocket in black or white). The total width of the flag will be slightly wider than the dimensions in the table below.
Take a look at the dimensions of the different models. In the tables below you will find an overview with the sizes of the flags and the total height of the beach flag with pole.
Rectangle Beach Flag Dimensions
| | | |
| --- | --- | --- |
| | Printing(cm) | Total height(cm) |
| XS | 60x160 | 200 |
| S | 72x240 | 300 |
| M | 72x340 | 400 |
| L | 72x440 | 500 |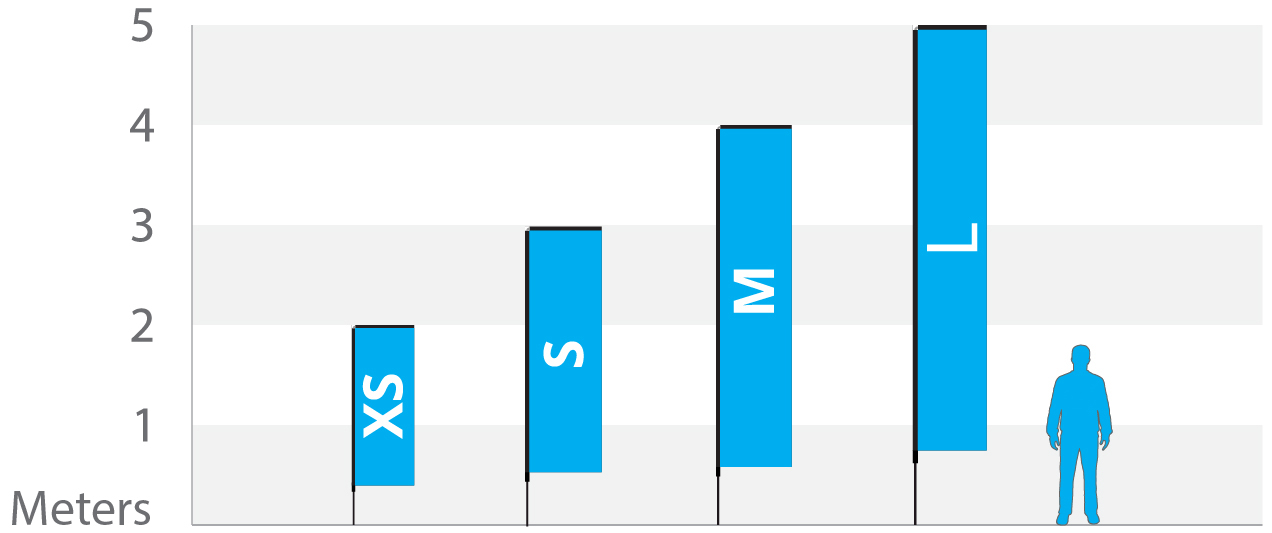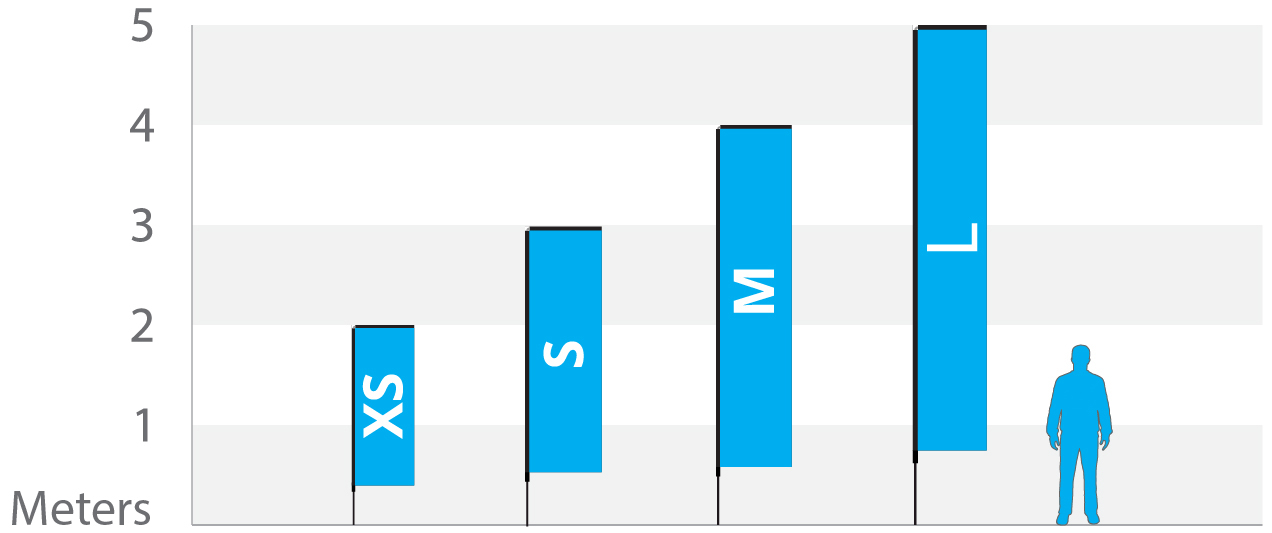 Straight Beach Flag Dimensions
| | | |
| --- | --- | --- |
| | Printing(cm) | Total height(cm) |
| XS | 60x186 | 250 |
| S | 60x240 | 300 |
| MW | 90x300 | 400 |
| M | 70x330 | 420 |
| L | 75x380 | 500 |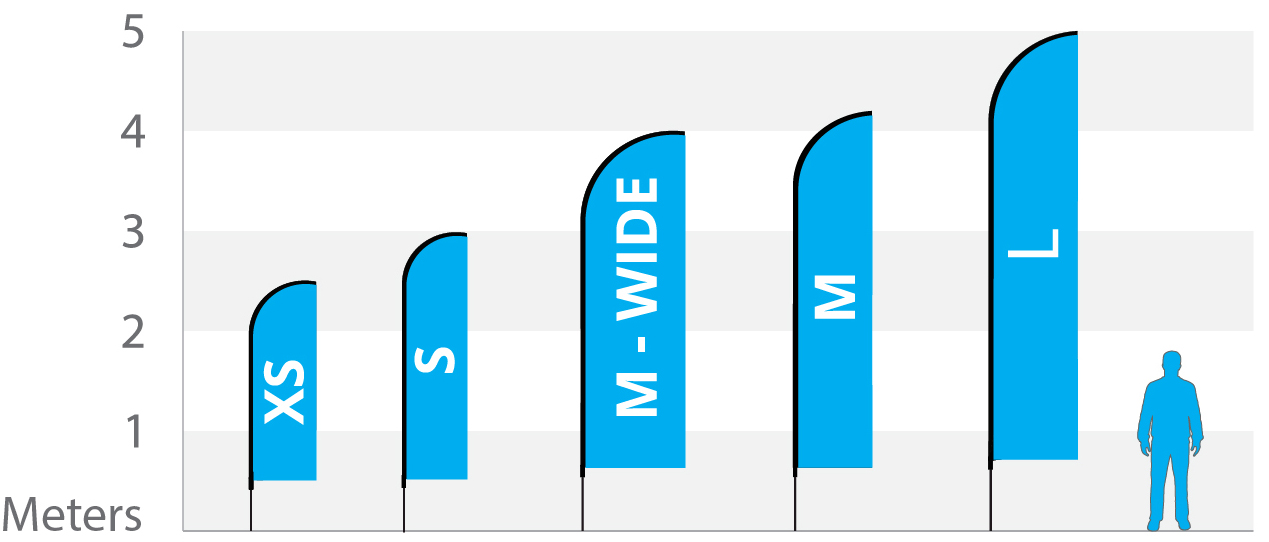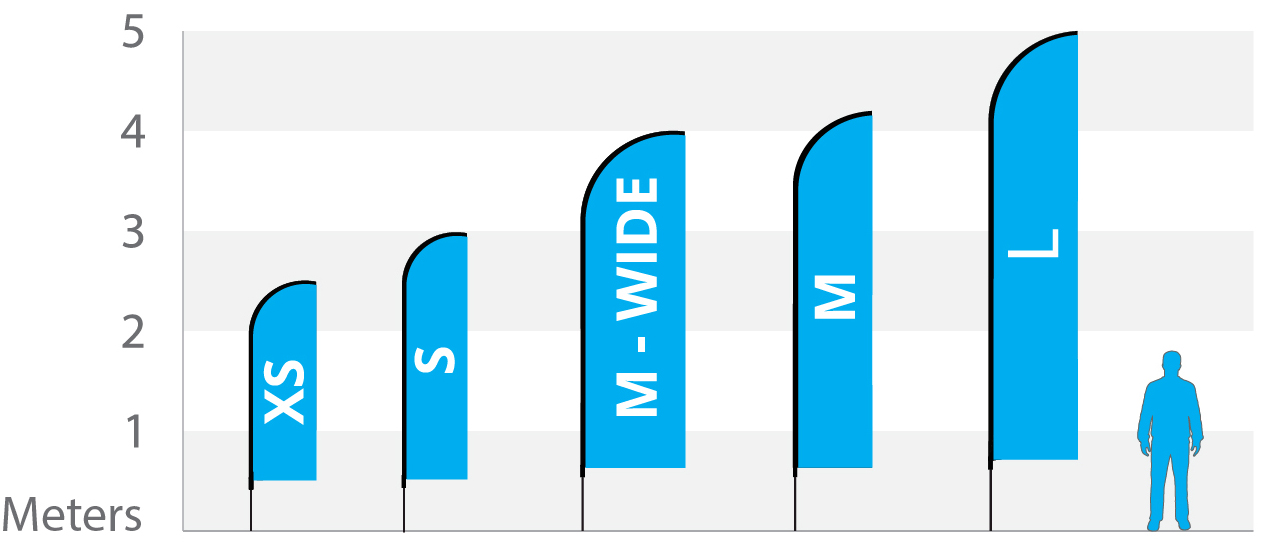 Feather Beach Flag Dimensions
| | | |
| --- | --- | --- |
| | Printing(cm) | Total height(cm) |
| XS | 60x180 | 250 |
| S | 60x240 | 300 |
| MW | 90x300 | 400 |
| M | 70x330 | 420 |
| L | 75x380 | 500 |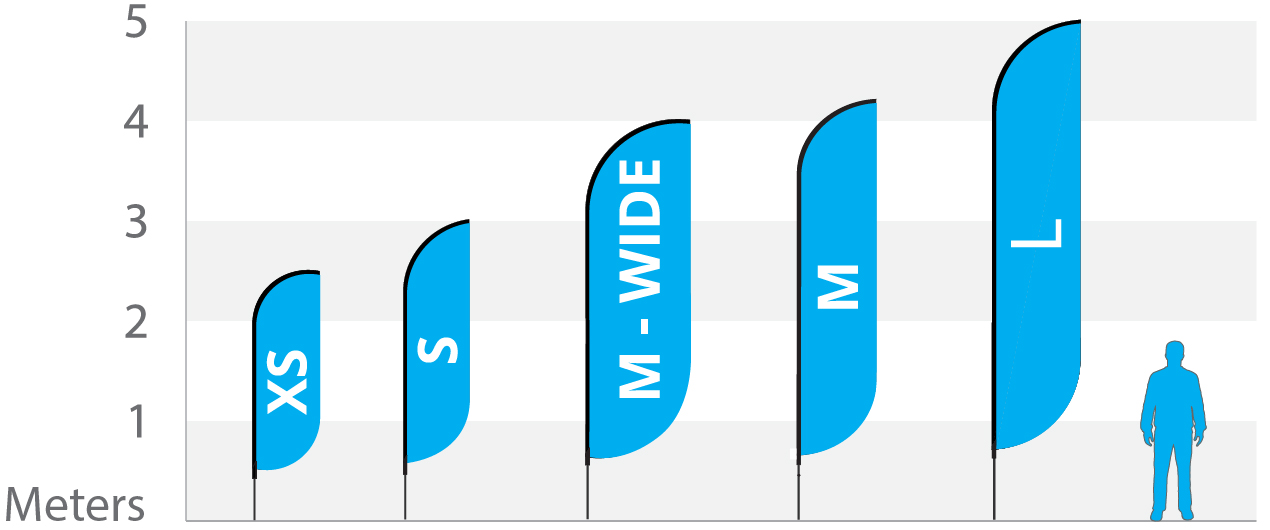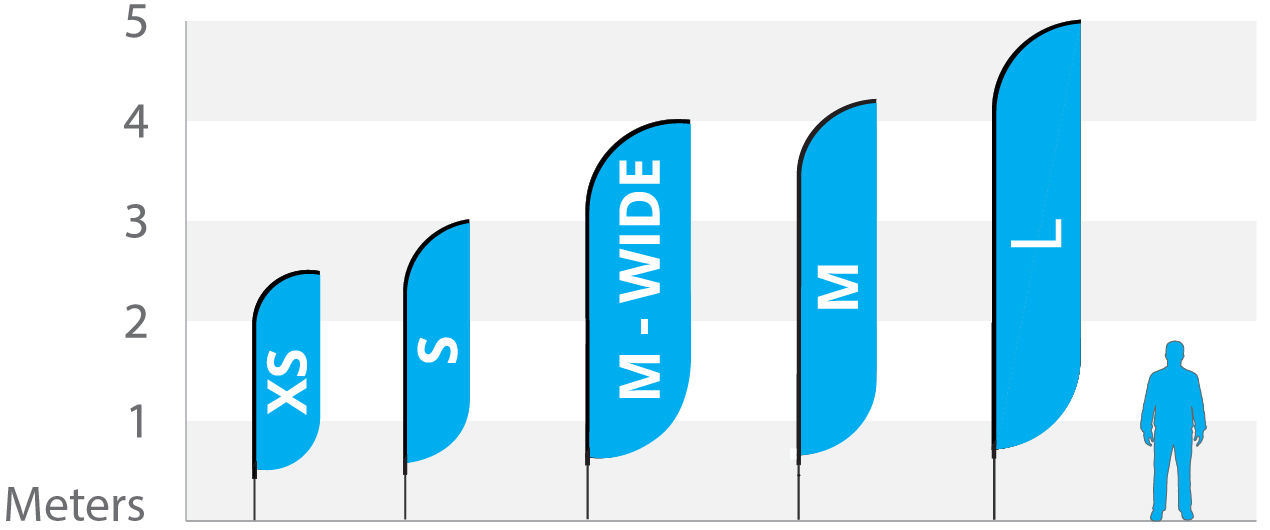 Teardrop Beach Flag Dimensions
| | | |
| --- | --- | --- |
| | Printing(cm) | Total height(cm) |
| XS | 80x143 | 200 |
| S | 90x180 | 250 |
| M | 100x240 | 340 |
| L | 100x300 | 400 |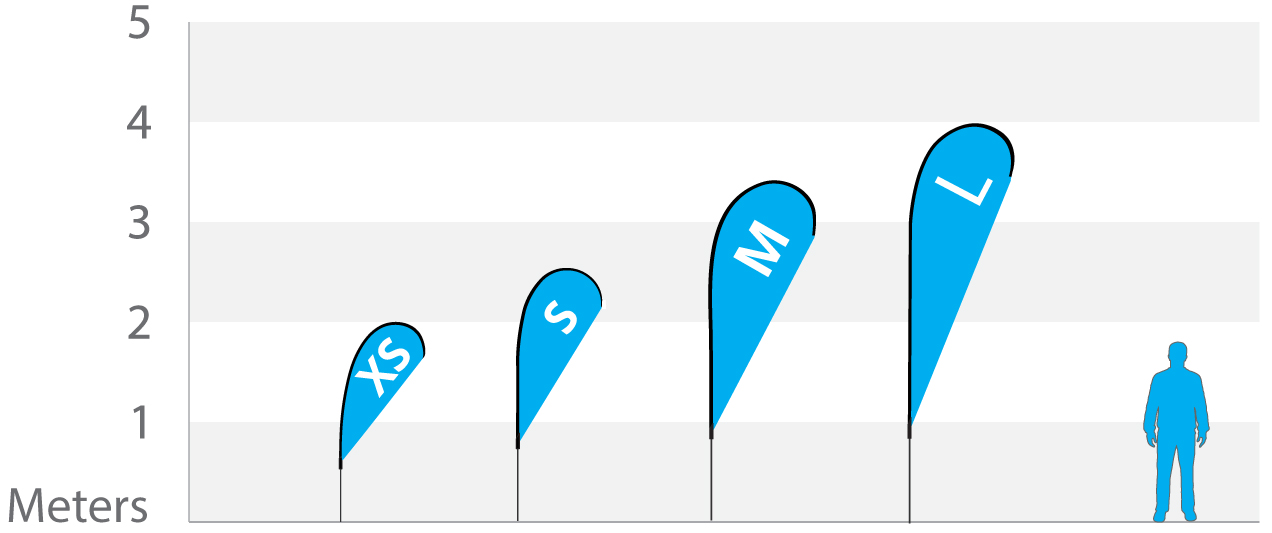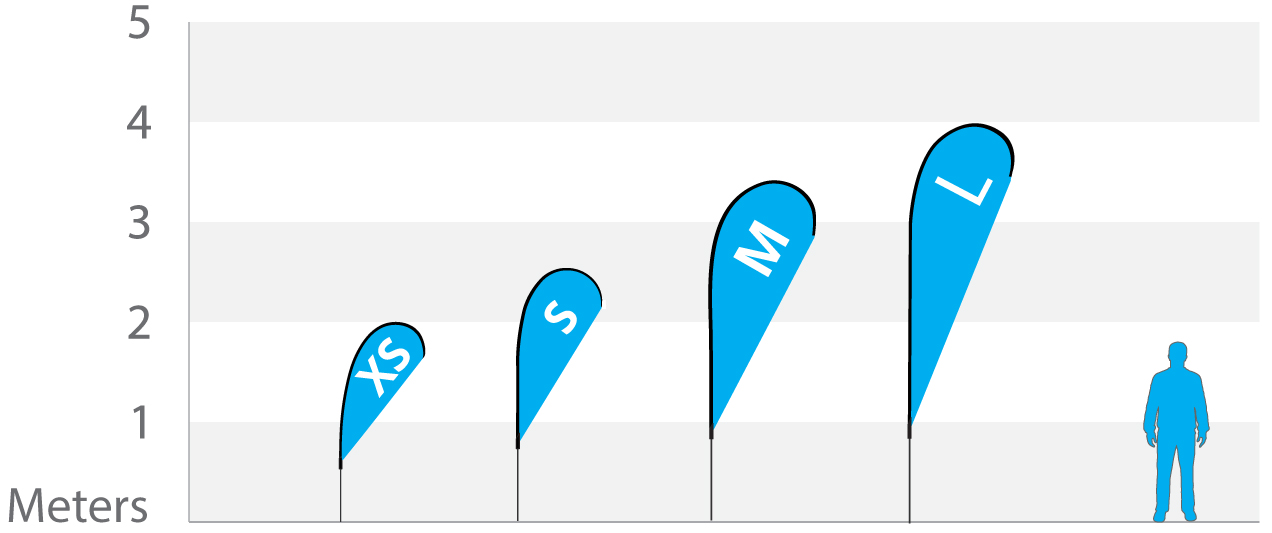 Shark Beach Flag Dimensions
| | | |
| --- | --- | --- |
| | Printing(cm) | Total height(cm) |
| XS | 68x200 | 250 |
| S | 68x250 | 300 |
| M | 68x350 | 400 |
| L | 68x400 | 500 |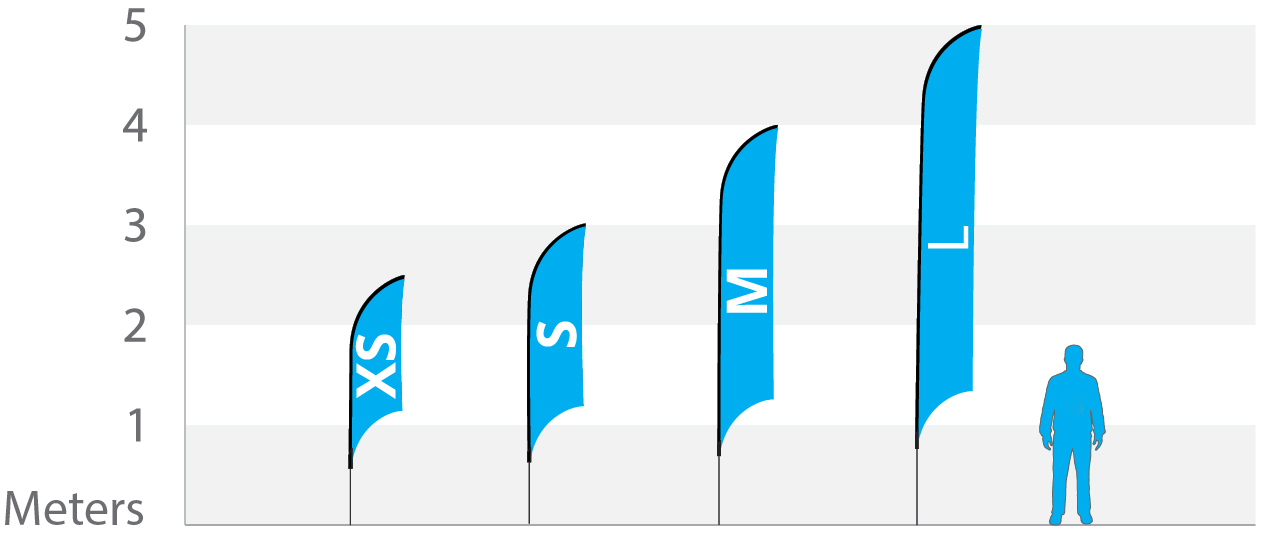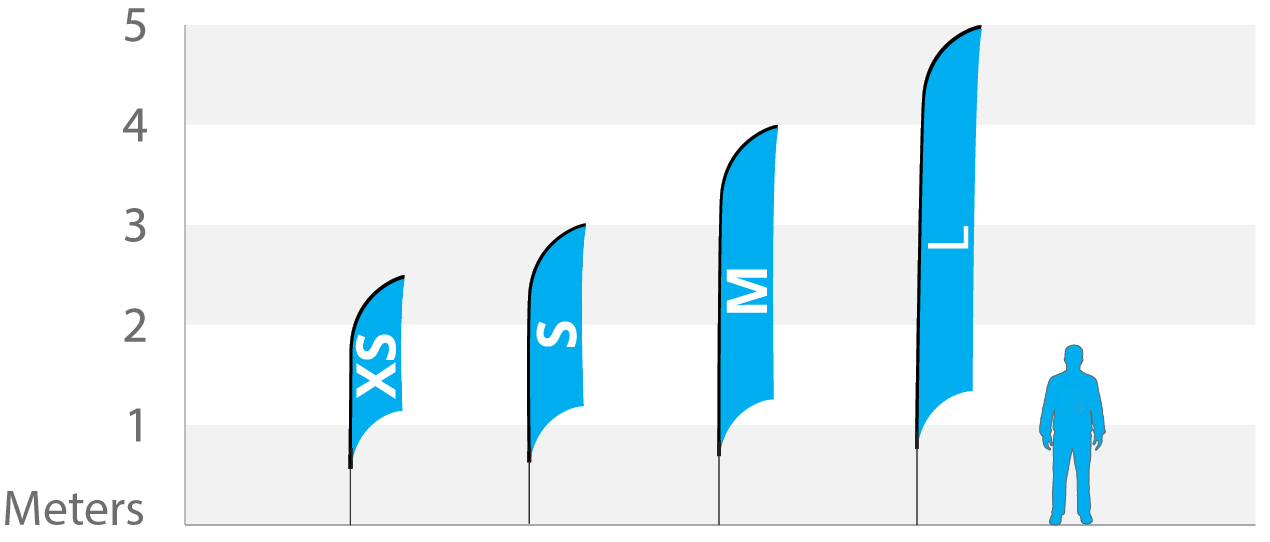 Angled Beach Flag Dimensions
| | | |
| --- | --- | --- |
| | Printing(cm) | Total height(cm) |
| XS | 60x186 | 250 |
| S | 60x240 | 300 |
| MW | 90x300 | 400 |
| M | 70x330 | 420 |
| L | 75x380 | 500 |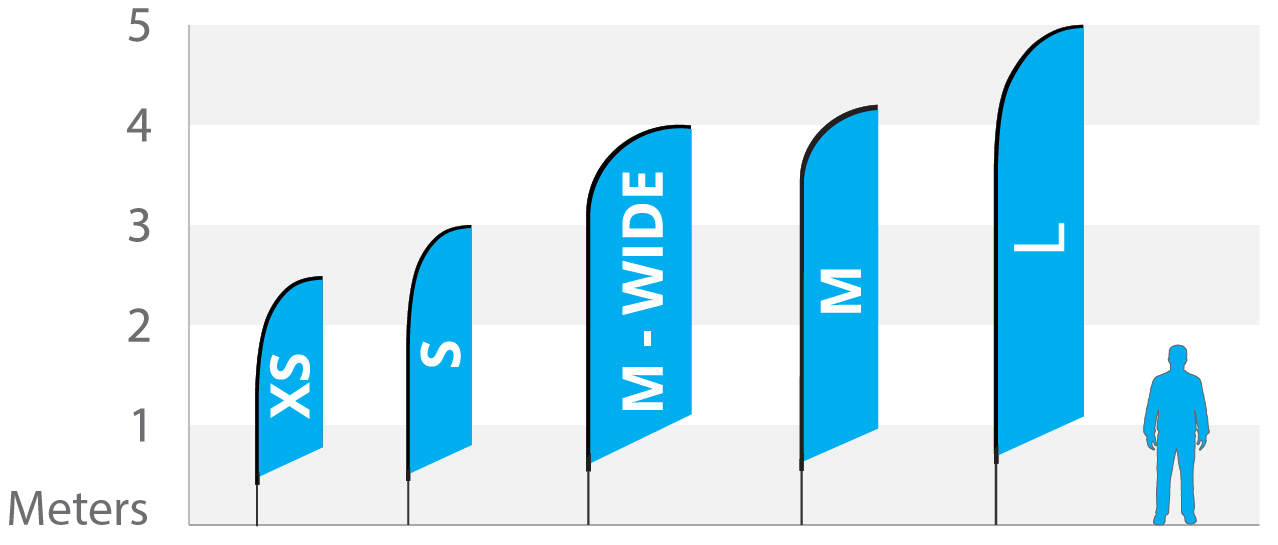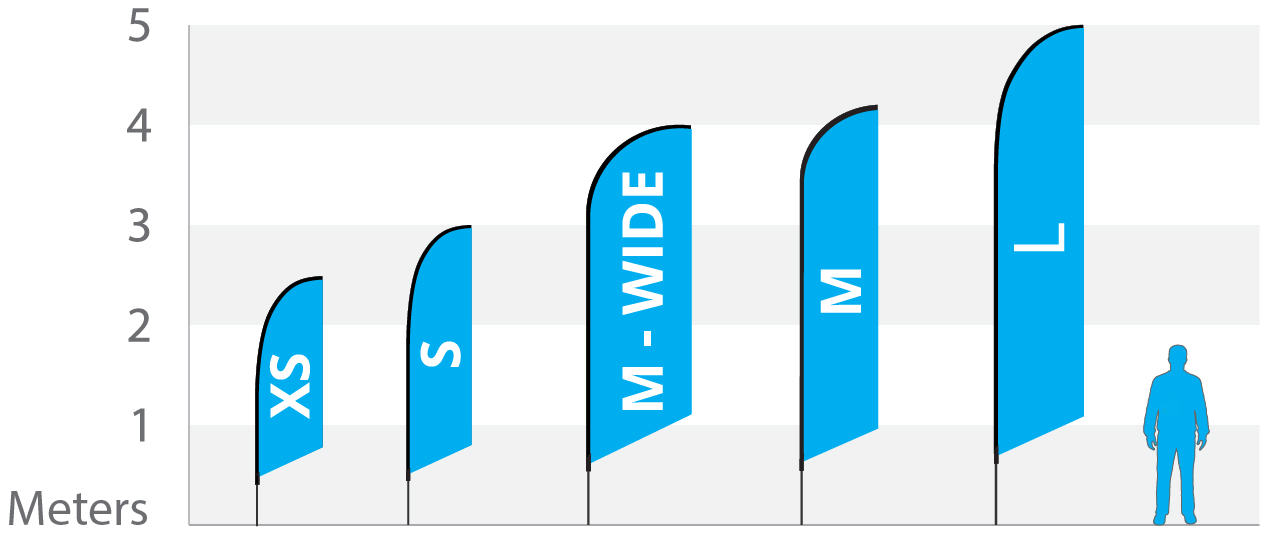 Convex Beach Flag Dimensions
| | | |
| --- | --- | --- |
| | Printing(cm) | Total height(cm) |
| XS | 60x180 | 250 |
| S | 60x240 | 300 |
| MW | 90x300 | 400 |
| M | 70x330 | 420 |
| L | 75x380 | 500 |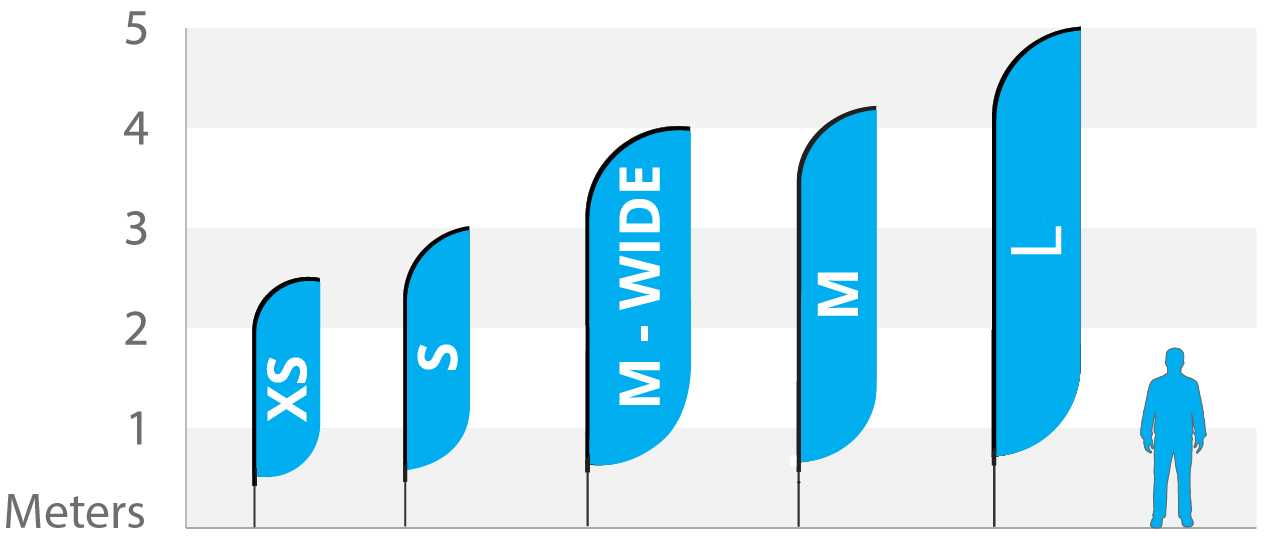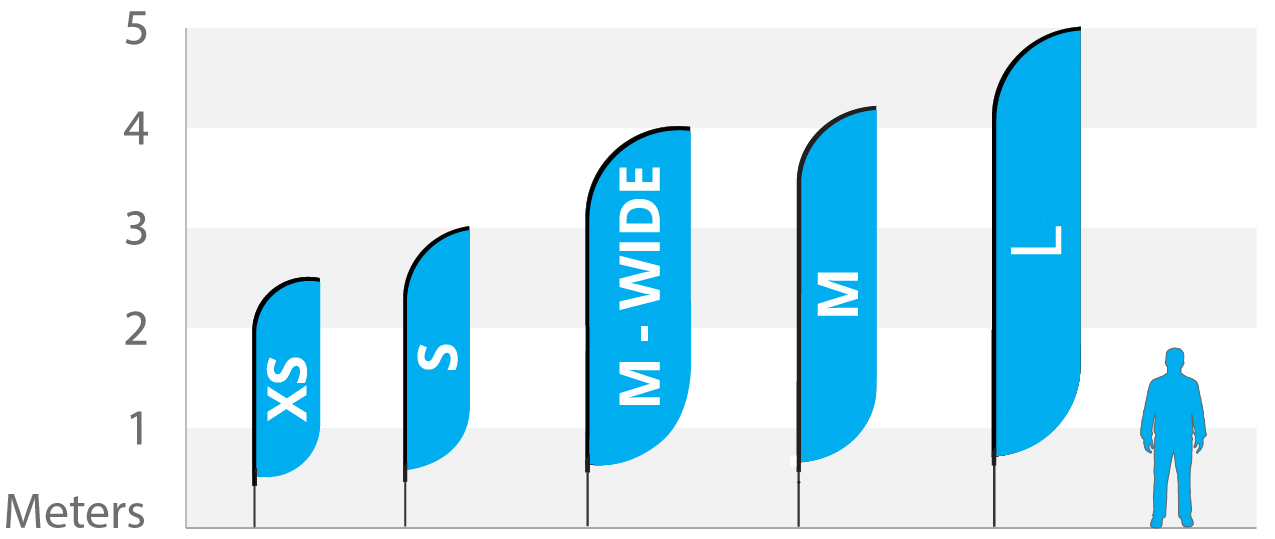 FAQs
Frequently asked questions and answers