Custom Personalized Teardrop Shaped Advertising Flags
Teardrop shaped advertising flags, also known as feather banners, are an excellent way to promote your business and capture the attention of potential customers. With a variety of options available, our flags can be used both indoors and outdoors, making them a versatile choice for any business.
Our flags come with multiple base options, including ground spikes and cross bases, to ensure that they can be placed in any location. We also offer both single-sided and double-sided printing options, so your advertisement can be seen from all angles.
Our flags are made from durable 3.24 oz. polyester fabric and are printed with UV resistant ink to ensure that they can withstand the elements and last for a long time. The flags are also lightweight and easy to transport, making them perfect for events and trade shows.
When you purchase one of our pole kits, you will also receive a travel carry-case bag, making it easy to transport your flag to different locations. With our high-quality flags and convenient travel options, you can be sure that your business will be seen wherever you go.
Specification
Our teardrop shaped advertising flags are a truly versatile and effective way to promote your brand and increase visibility. These flags are perfect for a wide range of uses, including events, trade shows, real estate sales, or simply outside your business. With their unique and eye-catching shape, these flags are sure to grab the attention of potential customers and help to boost brand awareness.
One of the great things about these flags is that they are incredibly easy to assemble and set up. Our easy tensioning system ensures that they look perfect every time, and their portability allows you to set them up in almost any location. Whether you need a flag for a trade show, an event, or simply to attract customers to your business, our flags are the perfect choice.
We offer a fantastic range of bases to choose from, so you can set up your feather flag wherever you like. Plus, you can choose from single-sided or double-sided flags, depending on your needs. With a single-sided flag, the image will bleed through to the other side in mirror reverse, while a double-sided flag features sharp graphics that can be read correctly from either side.
To get started, simply select your preferred size, choose the type of flag that you want, and then supply your artwork (or design your own). We will have your feather flag produced and ready for dispatch in just 24 hours! With our fast turnaround times and high-quality flags, you can start promoting your brand and attracting new customers in no time.
Size Charts
Each beach flag is unique and has its own dimensions. To make it easy for you, we have made a clear overview of the different models with the corresponding dimensions. What is important for many customers, is the total height of the beach flag. This is important mainly for indoor use but sometimes, when used outside, you also want the information to be visible above certain objects. You will also find this total height on the websites of other providers. If you want to compare products with other suppliers, look carefully at the overall height and width of the beach flag and not the format (Extra Small – Large). Sometimes a size L (Large) with other providers is our size M. The printing shows the printing section (beach flag). These measurements include the margin by cutting the flag but exclude the tunnel (pocket in black or white). The total width of the flag will be slightly wider than the dimensions in the table below.
Take a look at the dimensions of the different models. In the tables below you will find an overview with the sizes of the flags and the total height of the beach flag with pole.
Rectangle Beach Flag Dimensions
| | | |
| --- | --- | --- |
| | Printing(cm) | Total height(cm) |
| XS | 60x160 | 200 |
| S | 72x240 | 300 |
| M | 72x340 | 400 |
| L | 72x440 | 500 |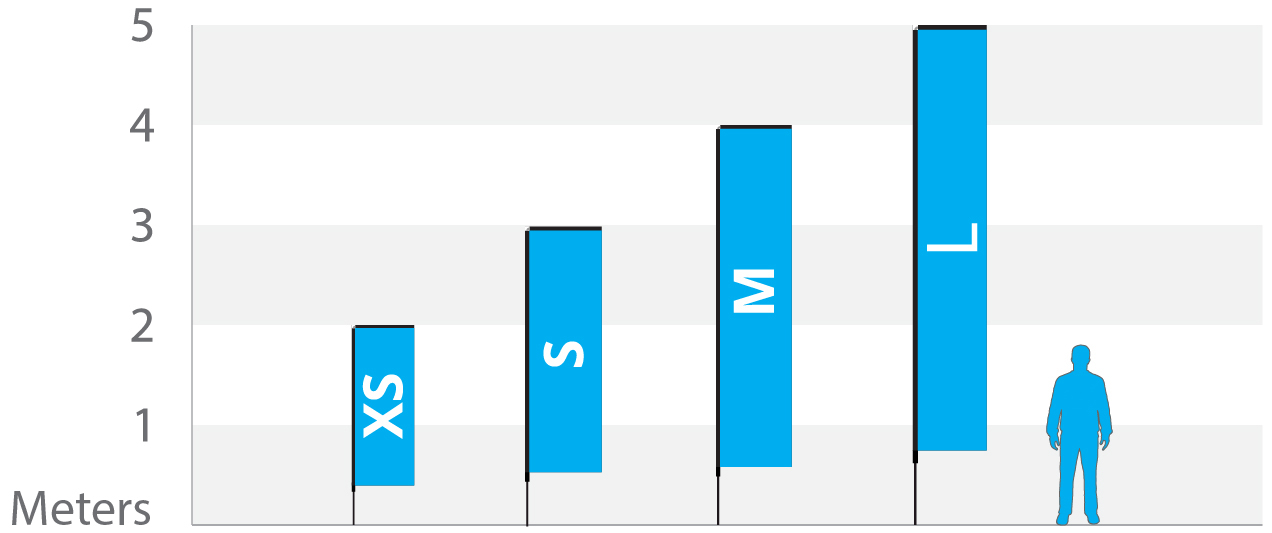 Straight Beach Flag Dimensions
| | | |
| --- | --- | --- |
| | Printing(cm) | Total height(cm) |
| XS | 60x186 | 250 |
| S | 60x240 | 300 |
| MW | 90x300 | 400 |
| M | 70x330 | 420 |
| L | 75x380 | 500 |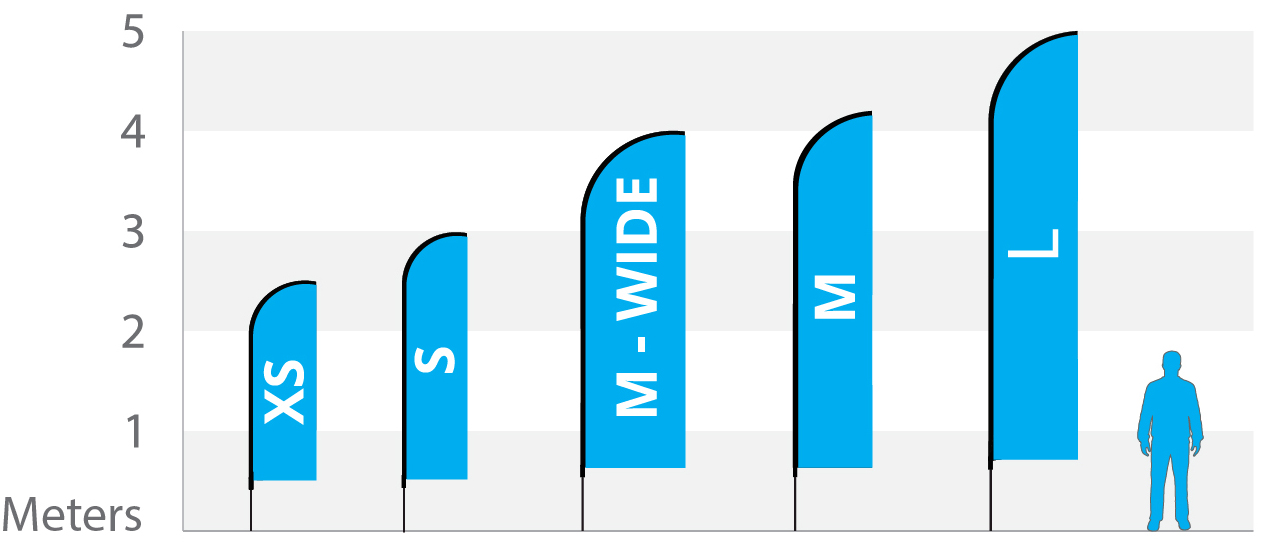 Feather Beach Flag Dimensions
| | | |
| --- | --- | --- |
| | Printing(cm) | Total height(cm) |
| XS | 60x180 | 250 |
| S | 60x240 | 300 |
| MW | 90x300 | 400 |
| M | 70x330 | 420 |
| L | 75x380 | 500 |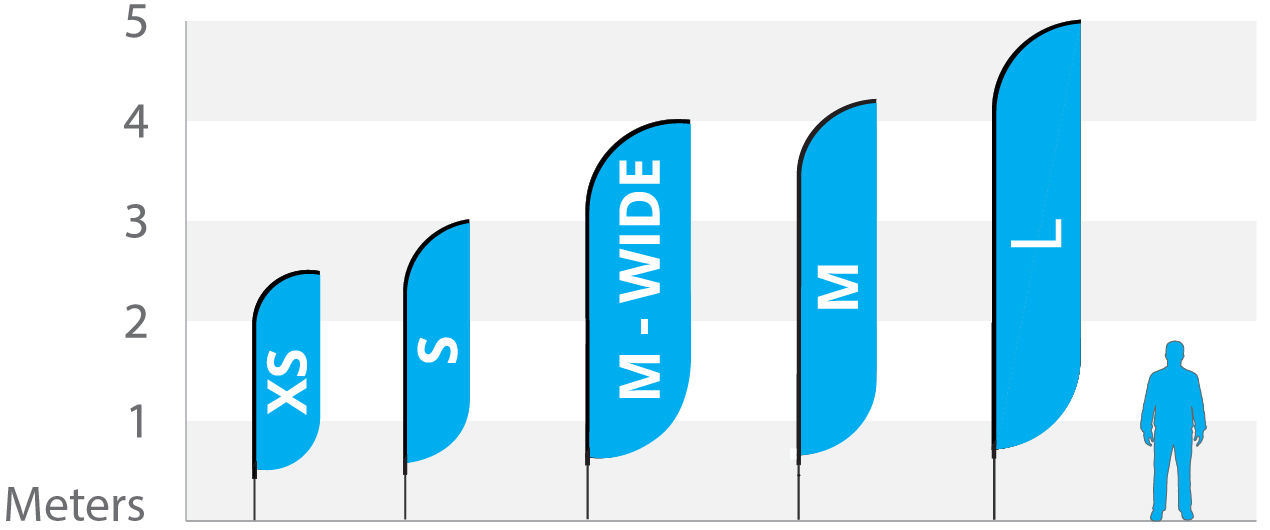 Teardrop Beach Flag Dimensions
| | | |
| --- | --- | --- |
| | Printing(cm) | Total height(cm) |
| XS | 80x143 | 200 |
| S | 90x180 | 250 |
| M | 100x240 | 340 |
| L | 100x300 | 400 |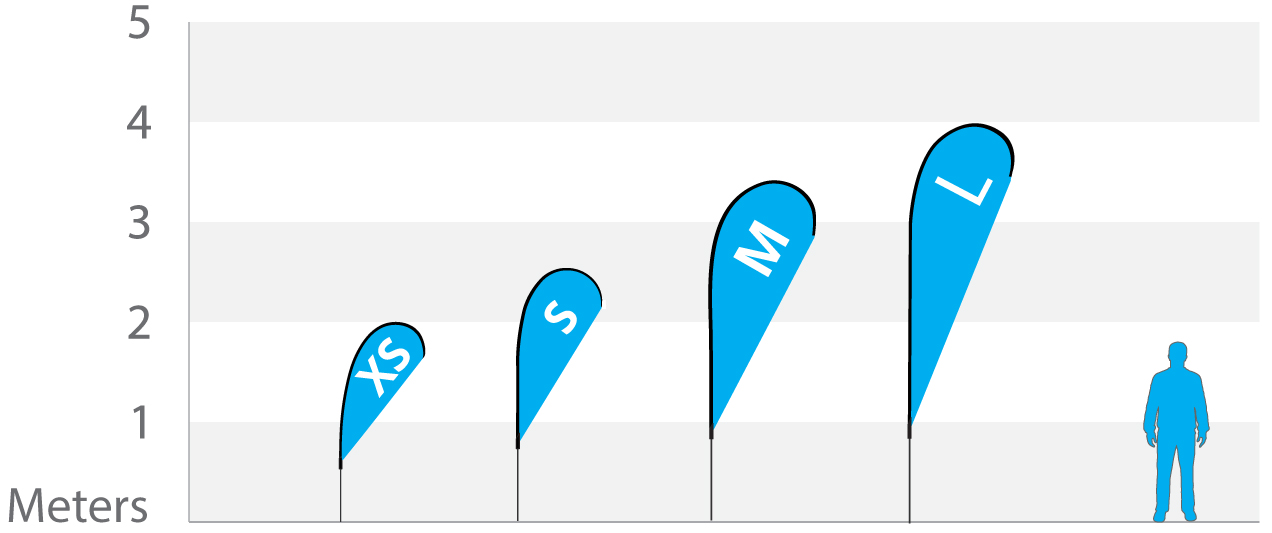 Shark Beach Flag Dimensions
| | | |
| --- | --- | --- |
| | Printing(cm) | Total height(cm) |
| XS | 68x200 | 250 |
| S | 68x250 | 300 |
| M | 68x350 | 400 |
| L | 68x400 | 500 |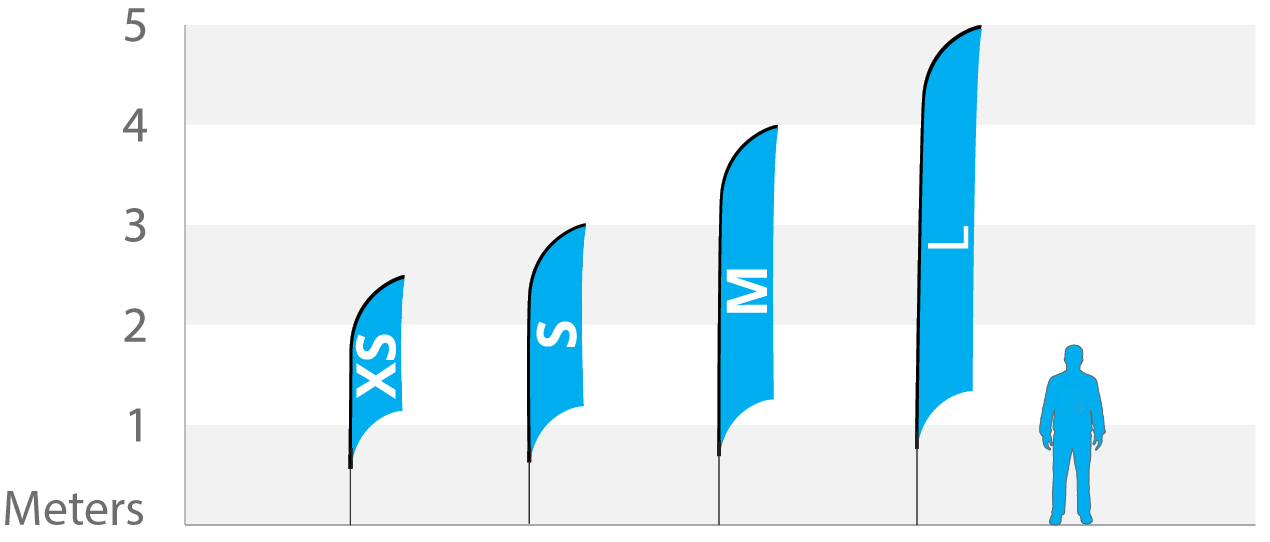 Angled Beach Flag Dimensions
| | | |
| --- | --- | --- |
| | Printing(cm) | Total height(cm) |
| XS | 60x186 | 250 |
| S | 60x240 | 300 |
| MW | 90x300 | 400 |
| M | 70x330 | 420 |
| L | 75x380 | 500 |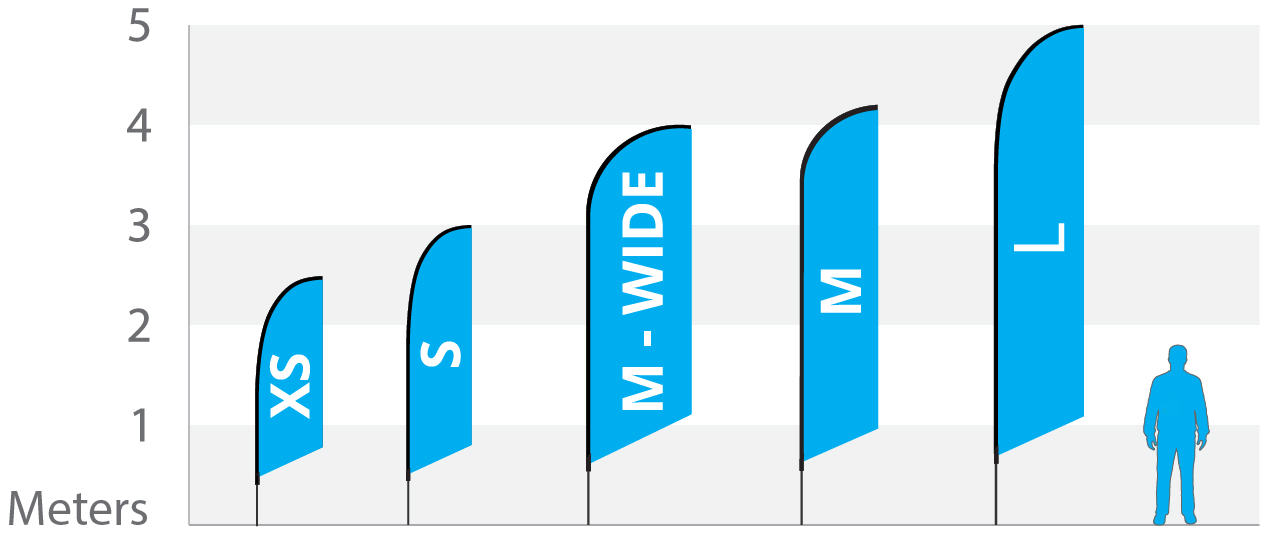 Convex Beach Flag Dimensions
| | | |
| --- | --- | --- |
| | Printing(cm) | Total height(cm) |
| XS | 60x180 | 250 |
| S | 60x240 | 300 |
| MW | 90x300 | 400 |
| M | 70x330 | 420 |
| L | 75x380 | 500 |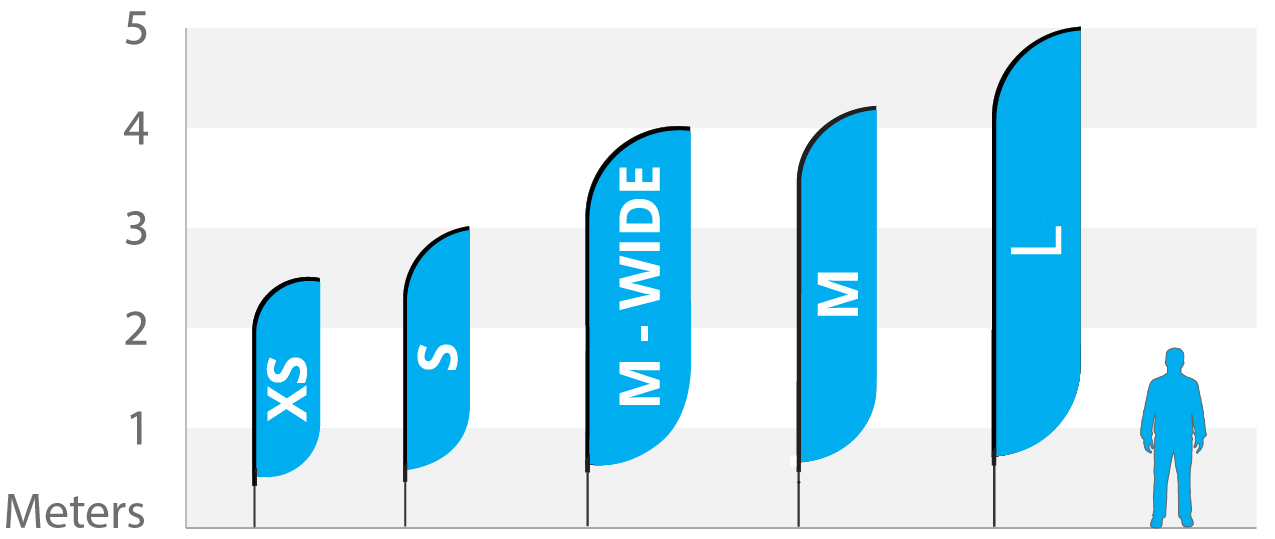 FAQs
Frequently asked questions and answers